Oberjoch Familux Resort
Family holidays in the heart of the exhilarating Allgäu mountain range
Our unique resort is beautifully situated at an altitude of 1200 meters in the climatic health resort of Oberjoch, which is hailed by the German Ski Association, as the finest family ski area in the Alps.
We have 25 experienced kid coaches, employed to take care of your children every day from morning to night; hence, each age group is divided into 5 dynamic clubs, ranging from infant to teen. What kid wouldn't be excited to try out the longest hotel tire water slide in Germany?! At Oberjoch Familux Resort, you'll immediately begin to embrace a fully relaxing experience along with the abundance of resort activities. Leaving your kids in good hands will prompt you to take advantage of some much needed alone time. Possibilities include a soothing trip to the panoramic sauna, a delightful spa treatment or a workout in the sensational fitness center, illuminated by natural light and alpine views.
Obviously, no stay would complete without a full gourmet experience available throughout the day. All-inclusive is the definition of culinary sophistication paired with service at the highest level.
German hygiene certificate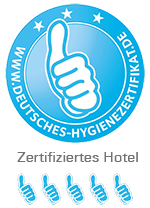 We guarantee you the highest hygiene standards, confirmed by independent institutes such as the Deutsche Hygienezertifikat GmbH. This particular institute regularly performs unannounced checks, providing the Familux Resort Oberjoch with its steady clean bill of health. Time and time again, we have demonstrated that we are far above the legal standards in terms of cleanliness, bacteria and viruses. We are taking the utmost care and continue to work hard in order to keep up the level of security for you, for us, and for everyone.
Our highlights & advantages
All you need for your holidays
Stay up to date & subscribe to our newsletter