Here in Oberjoch, Germany's highest mountain village in the southernmost part of Bavaria, we provide guests with the highest level of hospitality. A Kinderhotel that makes family holidays a special highlight of the year. Tell us what you'd like to see – your holiday experience and the well-being of your whole family are our top priorities!
The secluded location of our hotel, on the outskirts of Oberjoch, offers spectacular views of the Allgäu Alps. Directly located opposite the Iseler plateau, visitors can enjoy the hustle and bustle of the hiking and skiing area.
There is plenty to discover in the region. The Allgäu is perfect for children: climbing parks, swimming pools, playgrounds and tourist destinations of all kinds can be found around every corner. Children and adults alike can enjoy our beautiful region. Visitors can get close to nature, go walking or hiking, or simply play and be children. Obviously, skiing in Oberjoch is a special experience for your winter family-holiday, though there are plenty of other cool adventures to be had with toboggan runs, cleared hiking trails and ice-rinks.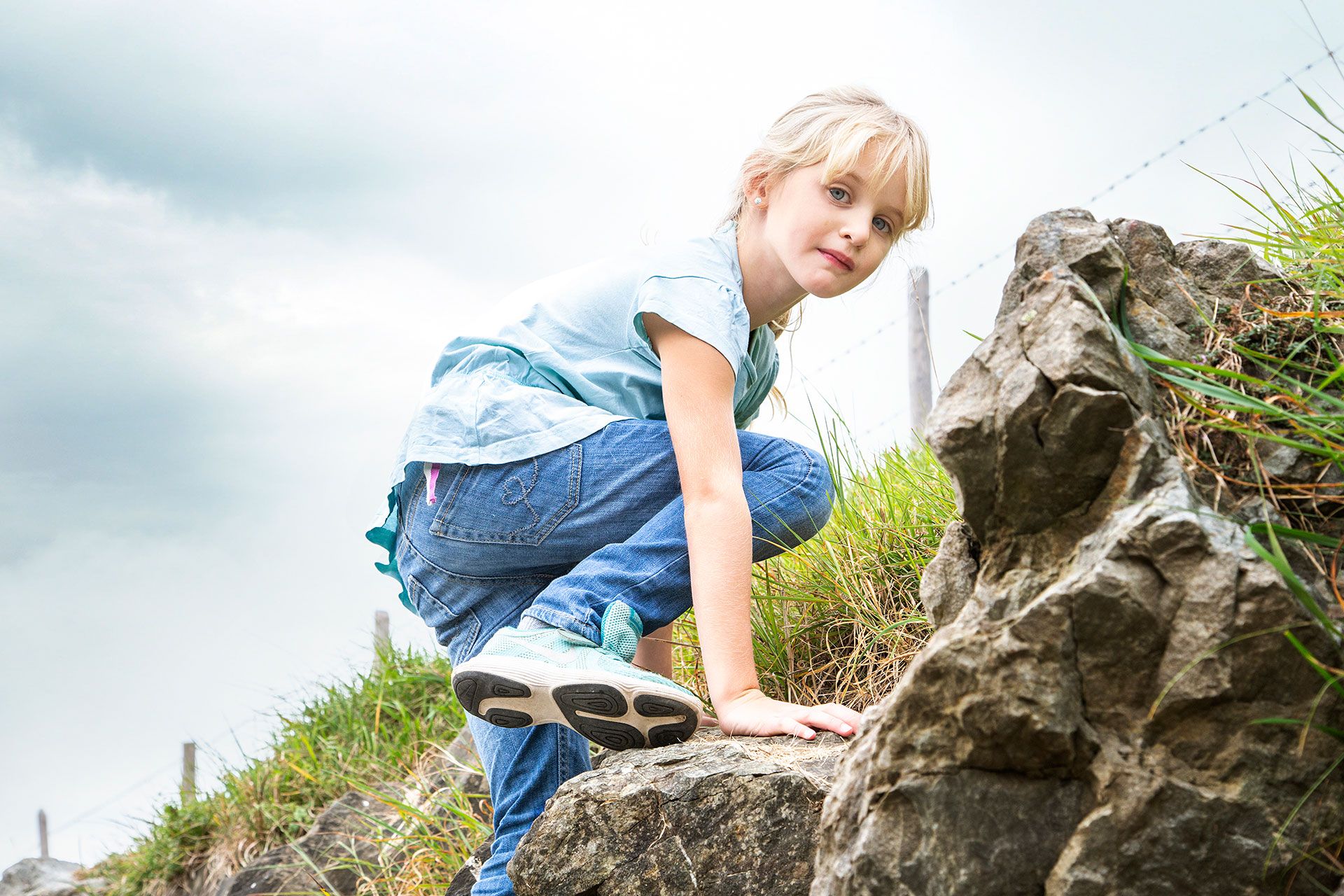 The Bad Hindelang PLUS guest card offers guests a wealth of free leisure activities
As a Bad Hindelang PLUS host we give you lots of recreational fun for free!
At Familux Resort Oberjoch we call it "holiday without hidden costs"!
The advantages at a glance
Free use of the mountain railways with Bad Hindelang PLUS. With the Iseler and Wiedhag lifts, you come up to a wonderful alpine hiking / skiing area.
The Hornbahn Hindelang lift leads directly to the Imberger Horn, a beautiful family hiking and family skiing area (in winter with three toboggan runs). In winter, the ski passes for the Bad Hindelang ski areas which includes Oberjoch, Unterjoch and Bad Oberdorf (during normal operating times *) and free admission to the kids' snow land (Schneekinderland).
Free travel on the regular bus route to Sonthofen (Wonnemar) and into the Tannheimer valley (new since 01.12.2019)
Free ride on the "Giebelhaus" bus from Hinterstein to the Allgäu High Alps nature reserve.
Free entry to the nature pool in Bad Hindelang.
Free use of the tennis hall and tennis courts at the Hornbahn in Bad Hindelang.
Free entry for 4 hours in the Wonnemar water park in Sonthofen. The use of the sauna world and the health spa is at an additional cost.
Free entry for 3 hours to the Alpspitz bath centre in Nesselwang. Sauna admission at a small additional fee.
Free fun in the indoor Allgäulino playground in Wertach with trampolines, the highest climbing castle in Germany and much more.
Archery at the mountain-indian in Oberjoch at the foot of the Iseler.
Since May 2020: many new experiences exclusively with your PLUS card. What no one else can, you can experience exclusively with your PLUS card! Get to know real Bad Hindelanger and experience our culture, nature and tradition up close and genuinely.
Hike "In harmony with nature": Our hiking guide will show you his favorite tours with the most beautiful views, routes and nature experiences.
Alpine tour with a small meal on the 1st organic dairy farm in Germany: Our Älpler Benedikt will show you his alp and tell you a bit about life there.
Via ferrata course with mountain guide: With our mountain guide Patrick you will experience the most beautiful via ferratas in the Ostrachtal.
Mountain hiking & yoga – time out to recharge your batteries: Recharge your batteries and find inner peace in the Allgäu High Alps nature reserve->is no longer offered->please delete part of the text
Summer biathlon on the World Cup shooting range: start. Focus. pull the trigger On the real World Cup shooting range under the professional guidance of biathlon expert Uwe, you can experience the classic sport of biathlon in summer.
My tree in Bad Hindelang – tree planting with our forester: Become a part of Bad Hindelang and plant your own tree with us.
Photo workshop with photographer Jonathan Besler: Capture unique photo motifs in our Allgäu nature.
Sunset rides with the mountain railways: Watching the last rays of sun disappear behind the mountain peaks – an indescribable experience.
Sunrise hikes: Very early in the morning you set off with our mountain guide Hannes and be the first on the mountain: Just breathe in and enjoy the natural spectacle of the sunrise in the mountains.
Kässpatzen cooking course: This is how we make our famous Kässpatzen in Bad Hindelanger. Cook and taste with us.
Asphalt curling: With the ice club Hindelang. ->is no longer offered->please delete text part
Delicious worlds of spices with the meat and spice sommelier: Matthias will show you how to prepare fresh, tasty marinades for meat, vegetables and fruit in no time at all. Of course they try it too.
Krolf for everyone:
Krolf is a cross between croquet and golf – give it a try. Playing Krolf is only possible until the end of October.
Wine seminars with wine sommelier Maria: With a targeted selection, Maria will take you into the world of wine enjoyment. ->is no longer offered->please delete text part
Medicinal herb hikes and Kneipp.
Inge explains the medicinal herbs of the Allgäu nature to you and together you make medicinal products such as ointments or tinctures.
Mowing with a scythe according to old fathers' custom: this is how our grandfathers in Hindelang mowed our meadows – Hans-Jürgen shows you how to use the scythe.
Visit to the alphorn maker:
Alphorn blower course: Get to know one of our oldest and most well-known instruments. Herbert shows you how alphorns are made and even serenades you.
Mountain bike training with World Cup biker Nadine Rieder: tips and tricks from the professional biker. ->is no longer offered->please delete text part
Biking with the tourism director Max Hillmeier: Our tourism director will show you his most beautiful tours in the Ostrachtal. ->is no longer offered->please delete text part
Climbing & bouldering club in Tannheim: An excellent offer with top facilities. Whether you are a beginner or a pro, you are sure to find the right route for you here.
Cheese seminar with Benedikt and Lena: We'll turn you into real alpine dairymen and let you make cheese yourself. ->is no longer offered->please delete text part
Bahila children's and family program: All events carried out by the Immenstadt Nature Discovery Center are free of charge for you.
NEW:
Husky whispering with Marina Brutscher: Experience the fascination of the "Siberian husky" with sled dog driver Marina.
Mountain bike driving training: Under the competent guidance of MTB instructors, the driving skills are refined here.
You can register for all of our exclusive adventure services at the Tourist Information Bad Hindelang at +49 (0) 8324 8920 or info@badhindelang.de.
You will receive your Bad Hindelang PLUS card on arrival and can use it for one full day of use / calendar day per night. The validity of the card begins with the first use, and ends on the day of departure. You can find detailed information about the program and the exact operating times (*) as well as the terms of use here.
Summer in Oberjoch at our 4-star Kinderhotel
Let us take you outside – the best way to discover the surrounding area with all its charm. Not only do we offer you sport and exercise at the hotel, we obviously make use of the fantastic landscape of the Allgäu mountains. Relax in beautiful surroundings with minimum effort, or challenge yourself by carrying a moderate load.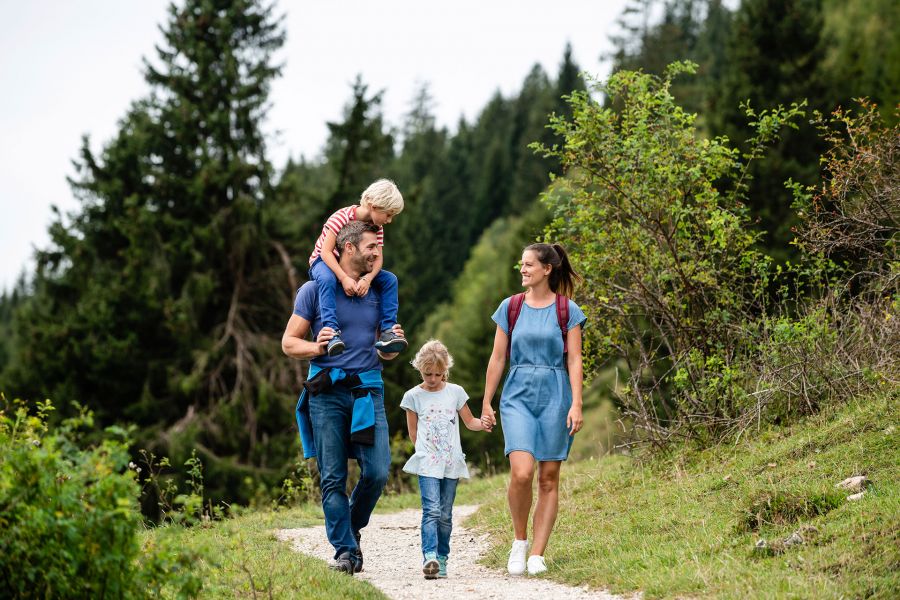 Summer activities in your family holiday
Hiking, mountaineering, climbing and biking up into the mountains with a stopover at a traditional mountain hut – these are all splendid outdoor adventures. Alternatively, one of the chairlifts in Oberjoch and the cable car in Bad Hindelang will take you to the hiking areas to see the most beautiful viewpoints.
Themed trails make hiking an adventure, while exciting play stations turn children into hiking fans.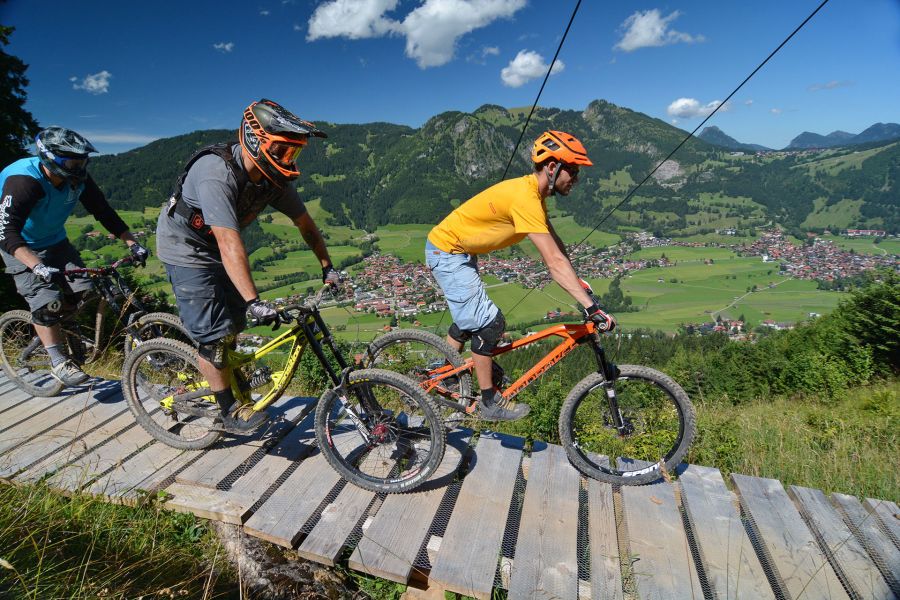 Bike park in Bad Hindelang
The bike park in Bad Hindelang offers terrific fun and is well-known throughout the regions for its top-class bikers. Watching the bikers is, of course, just as much fun and very entertaining.
Winter in Oberjoch – Germany's highest mountain village
Ski area with Schneekinderland for your family skiing holiday
During the winter months, Oberjoch is a winter wonderland of snow and ice. The sunny plateau offers 33 km of beautifully prepared ski slopes, plus the Schneekinderland children's area covering over 20,000 m².
The Iseler ski area is easy to reach on foot from the Kinderhotel, however there are hotel shuttle buses to transport passengers to and from the ski area throughout the day. Once a week, the skiing fun carries on into the night when you can ski under floodlights! Cosy mountain huts and inns invite you to stop for a refreshing break.
Family winter holidays in the Alps – here in Oberjoch in the Allgäu – are quite simply unforgettable! As an additional bonus, guests receive the Bad Hindelang PLUS Card with all its free services, e.g. free ski pass, free mountain railway to the toboggan runs, and lots more!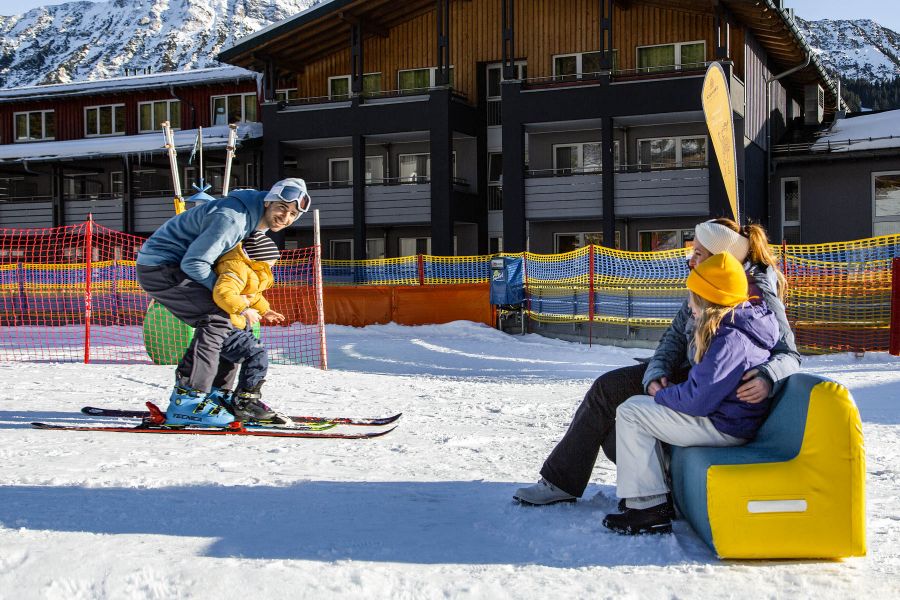 Schneekinderland
Not only is Schneekinderland a great place to learn and be active, it also includes a fantasy and play area, and a fairy-tale forest with animals. Here, children can learn how to ski or snowboard through play and lots of fun activities. Schneekinderland offers an impressive range of terrain, a zone with steep bends, a magic carpet and an area to practice jumping and slalom. In the children's play hut, little ones can chill out with our resident mascot, Isidor, take a ride on the snow carousel, or learn to ski in the Rainbow Forest. Children can also let off steam in two igloos and a tubing run. Another special highlight is the children's express that runs through the ski area.
Ski passes and Schneekinderland are free for our guests as part of the Bad Hindelang PLUS Card.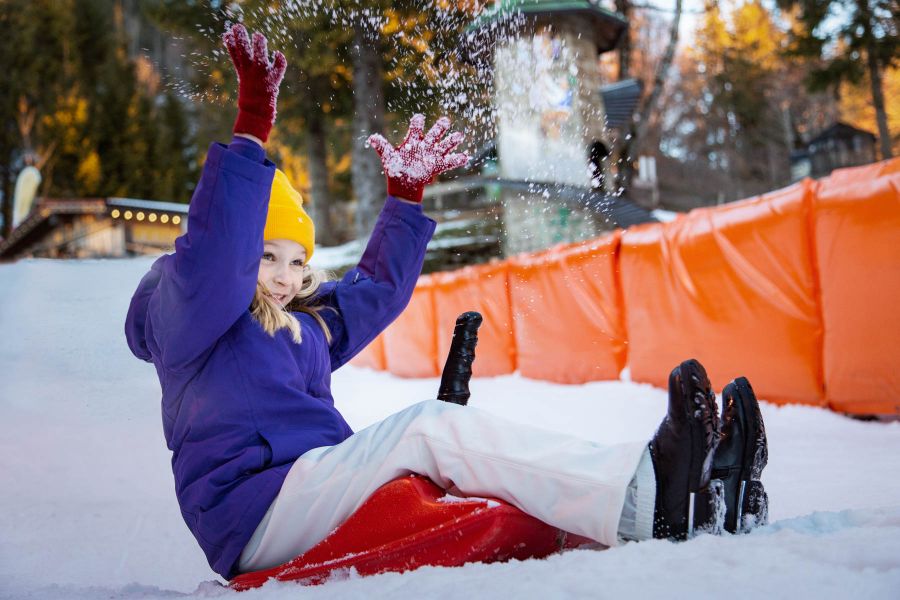 Tobogganing
Tobogganing fun right on our doorstep – our well-prepared and illuminated toboggan run is popular with young and old alike, making our Allgäu hotel a mega cool place to be in winter!
The thrill-seeking visitors can have a go on one or all three of the 3.5 km toboggan runs at the Hornbahn in Bad Hindelang. Tremendous sledging fun! One of the slopes is steeper and more suited to more athletic visitors, while the other two are very easily managed by children. And there is no need to miss out on all the fun just because you don't have your own sledge. Sledges and bobsleds can be borrowed free of charge from the hotel! Wooden sledges can also be hired for a small fee from the Hornbahn, Bad Hindelang.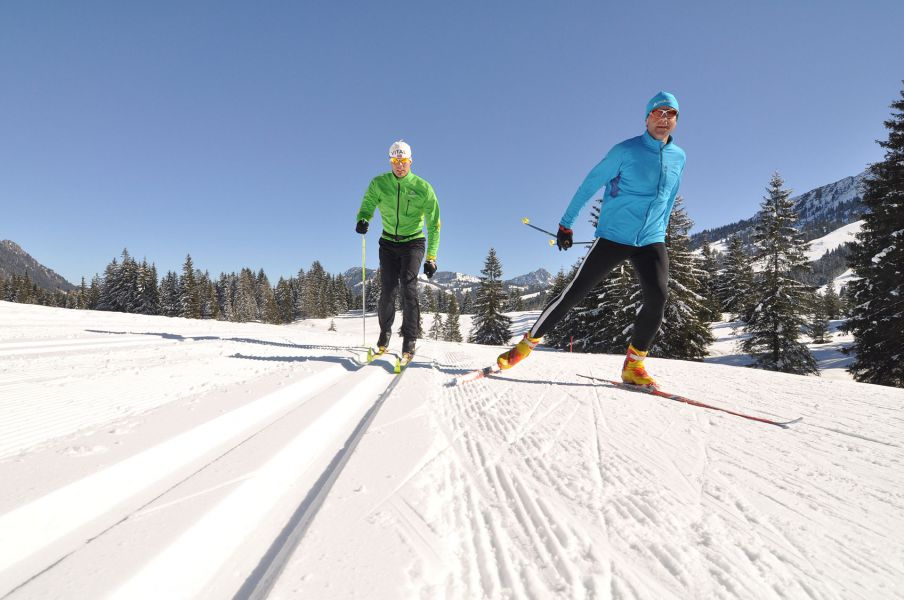 Cross-country skiing
100 km of cross-country ski trails promise a varied active holiday for both classic and freestyle skiers. The extensive network of trails even takes you across the border to the Tannheim Valley in Tyrol, Austria.
In Bad Hindelang there is also a 1.5 km night-time trail, guaranteeing a very special cross-country skiing experience.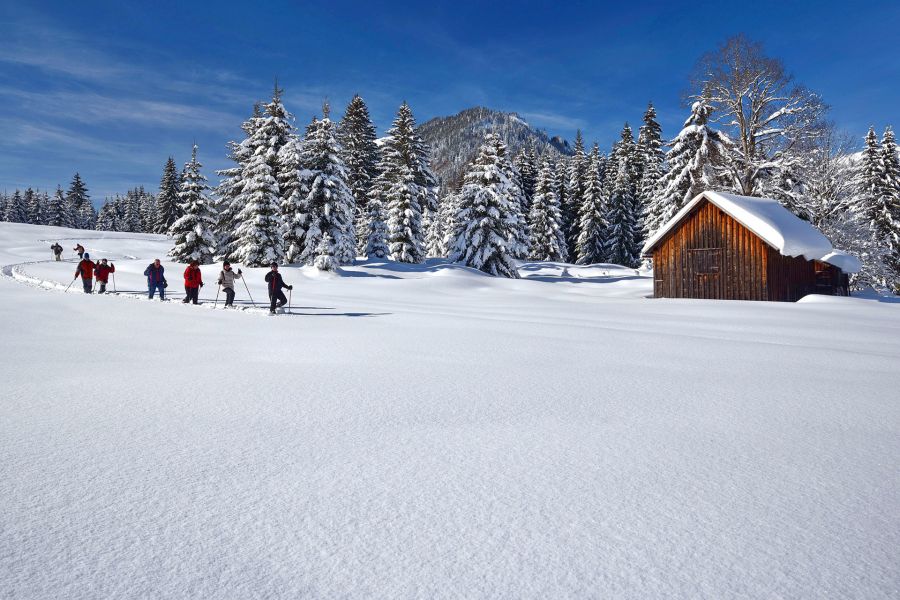 Winter hiking and snowshoeing
Experience Oberjoch in all its white splendour on countless winter hiking trails. Torch-lit hikes and winter walks are offered on a weekly basis as part of our guest programme, enabling you to quickly become familiar with the area.
Snowshoeing – a new and popular sport – has found a firm place on our guest programme and is one of the best ways to explore the snowy landscape of Oberjoch. Snowshoeing is easy to learn and provides great access to the mountains, enabling visitors to savour the peace and tranquillity of winter.