Best Kinderhotel in the skiing area – everyone loves us!
The prestigious internet platform, Skiresort.de, presented us with an award validating that here, in Oberjoch, we have the best conditions for little snow bunnies.
The hotel's ski shop is open every day. Here you can borrow equipment, ask for advice and book appropriate courses. Our caregivers take the younger children over to the ski instructors who teach them to ski in the Schneekinderland – children's snow land, with its learning and action zones.
The Oberjoch ski area, with its large Schneekinderland covering 20,000 m², is a stone's throw away. Our shuttle bus drives the short distance throughout the day. Younger children even have their own transport for equipment so the skis are ready on the slope. Buckle up and off we go… where skiing is child's Play.
Skiing fun for our youngest guests
Even our youngest guests can learn to ski at the hotel with our carousel and magic carpet, attending beginner's lessons in small groups.
We look after children aged 2-4 years every day from 9:30 to 11:00 and from 11:00 to 12:30. And it isn't just the children who are enthusiastic. Parents are also very proud of their little skiers. Learning to ski at our Kinderhotel creates great memories that will last a lifetime. Beginner's lessons cost €40.00 per lesson (1.5 hours)
A ski hotel for the whole family
The long-standing collaboration, between ourselves and our partner from the Ostrachtal ski school, guarantees: professional and child-friendly ski instructors, an exciting area for learning and action, ideal course times for our hotel, and good value for money. One particular highlight is the weekly presentation ceremony for children at our own theatre where we often see several children standing on of the winner's podium beaming with pride and showing off their medals. In our ski hotel, your children will feel like the stars of tomorrow!
Parents can meet our ski instructors at their weekly talk. Here they can gain inside information and useful tips in a relaxed atmosphere. Remember, all of our guests are entitled to a ski pass for the whole family and one free admission to the 20,000 m² Schneekinderland. Skiing holidays at our Kinderhotel guarantee lots of fun combined with learning and improving new skills.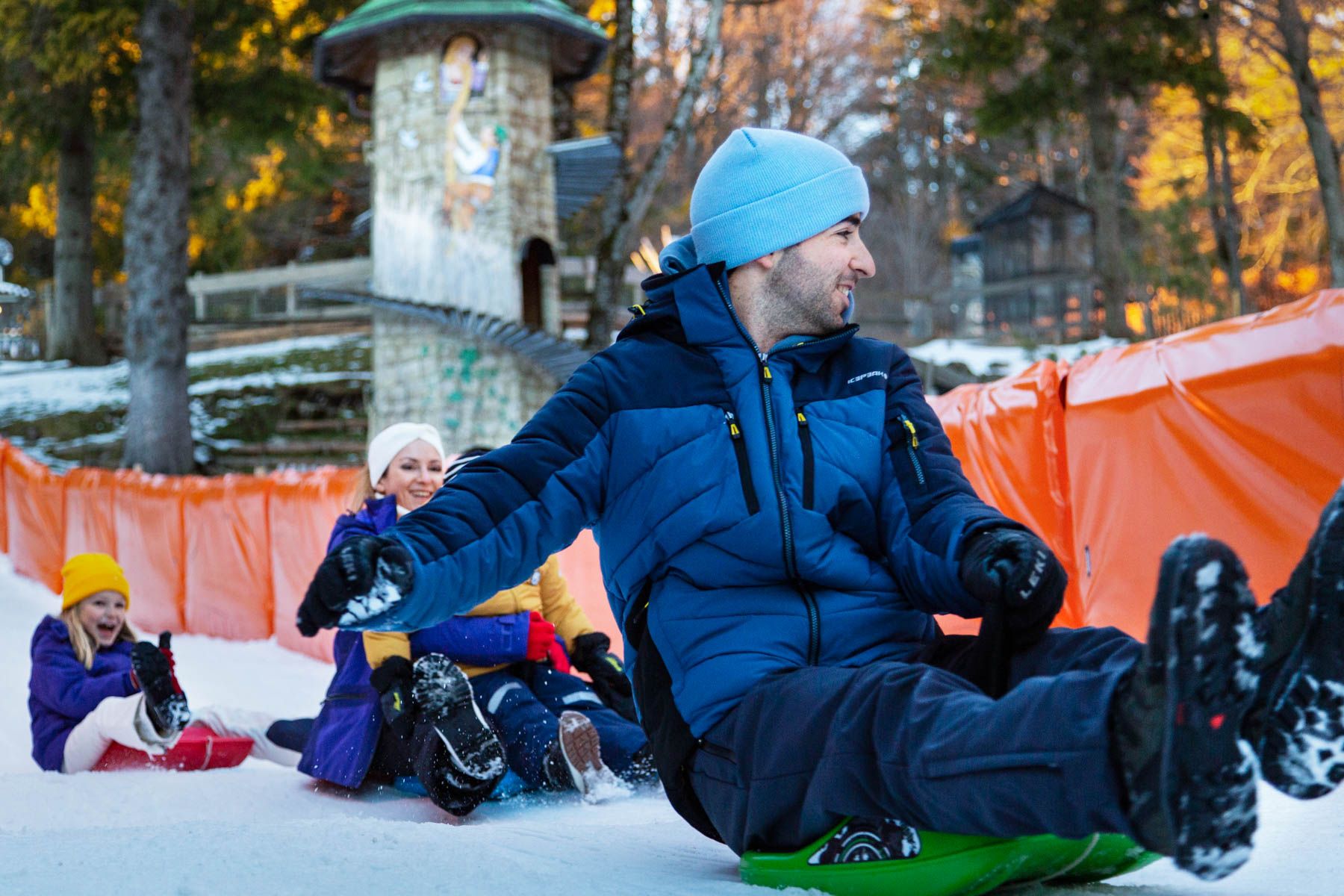 There is even variety in winter! Those who aren't so keen on skiing can meet at the toboggan run right next to our winter enchanted forest. The toboggan-run is also illuminated in the evening.
Our family hotel brings variety to your holiday, even during the winter. Germany's longest natural toboggan run is located in Bad Hindelang, which also promise plenty of action and fun for the family. The Bad Hindelang PLUS Card allows free travel on the Hornbahn cable car, Bad Hindelang and at the top, the three 3.5 km natural toboggan-run attract visitors to the valley. Travel as often as you like; the cable car is free even when travelling a few times a day. Sledges and toboggans can be borrowed from the hotel, free of charge.