Tips for excursions with the children – In the area
Schneekinderland offers everything children and ski-learners could possibly want, and more. Covering more than 20,000 m², not only is it a great place to learn and be active. It also includes a fantasy and play area plus a fairy-tale forest with animals. Schneekinderland will appeal to children on their winter holiday with its impressive range of terrain, a zone with steep bends, a magic carpet, an area to practice jumping and slalom, and much more. Admission is free with the Bad Hindelang PLUS guest Card.
Follow the treasure map and go on the trail of the 'mountain Indians'. The expedition runs along the stream, past totem poles and abandoned Indian tepees. Test your balance on a log bridge, rock back and forth on the Inca cable car across Silbersee and search for gold nuggets behind the waterfall. Later on, we can all share the tales of our adventures around the camp fire, perhaps while enjoying a buffalo sausage and magic potion.
Mountain adventure Oberjoch
Are you and your family always aiming high? Are you looking for an 'Alpine kick'? Then we recommend going on a mountain adventure. Guided by an experienced mountaineer, you and your family will follow a pre-developed route with climbing walls, rope-bridge, zip line and much more. And if that isn't enough, take part in the family-friendly climbing courses and Alpine climbing tours. Experienced guides from the Bad Hindelang Mountain Guide Office ensure that everyone has fun while staying safe.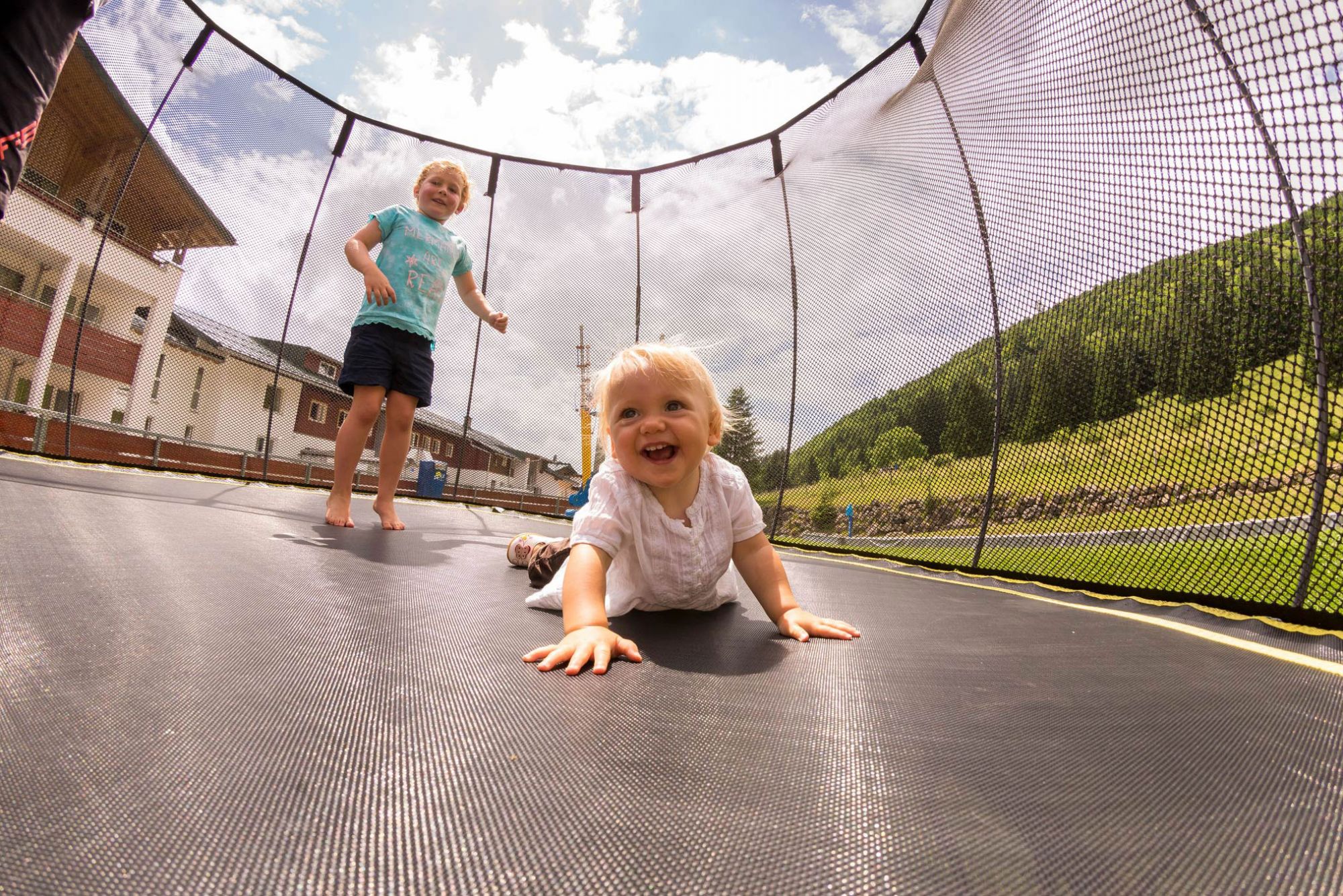 Our legendary pirate's day gives children the chance to ride like a pirate on the historic brig 'Santa Maria Loreto'. Accompanied by our entertainers and caregivers, children get to dress up in pirate costumes and go off in search of treasure on the Alpsee lake. The brig can also be chartered for family events, birthdays and weddings. Our family-friendly hotel has already reserved rides for you all this coming summer!
Adventure, games and action are all waiting for you at Ravensburger Spieleland. Experience thrills on the alpine white water rafting ride, show everyone how strong you are in the fire brigade game and go off on an adventure with the park's mascot Captain Blaubär. More than 50 attractions in 7 themed areas ensure lots of unforgettable moments.
Bärenfalle Climbing Forest
The Bärenfalle and Grüntensee climbing forests are some of the finest and largest facilities in Europe, and offer climbing fun for beginner, intermediate and advanced climbers. Visitors do not need to bring their own equipment. Children aged 6 and over can climb in the TÜV-tested high ropes Courses.
The Alpsee Bergwelt amusement park offers visitors attractions combining action and nature. Home to Germany's longest toboggan-run (2,800 m), it also boasts Bavaria's largest high ropes course and a giant playground directly on the Alpsee. In addition, there are versatile hiking trails and quaint rest points with spacious playgrounds at both the mountain and valley stations.
Throughout the summer various outdoor companies offers rafting on the Iller. The tour starts in Bihlerdorf bei Sonthofen at the Marienbrücke, where large rafting boats are ready and waiting for you. Once everyone has been given their paddles and life jackets, you will receive brief instructions, and then off you go! Take part in fun water battles before taking a breather on a sand bank. The tour takes around 2.5 hours and is suitable for children aged 5 and up. A special highlight for family holidays with older children.
Between Tiefenbach and Oberstdorf lies the Breitachklamm, a mountain gorge where visitors can comfortably and safely experience the spectacle of nature between a torrential stream and hard mountain rock. A wonderful experience, come rain or sunshine!
Allgäuer Bergbauernmuseum
Discover what life is like for the Allgäu mountain farmers and their animals in Germany's highest open-air museum. 'Kuhnigunde', the museum's mascot, will guide you through the varied museum attractions and then invite you to come for a snack of milk and cheese.
Sturmannshöhle Obermaiselstein
During the summer, visitors can take a tour inside the Schwarzenberg near Obermaiselstein. Formed over 120 million years ago, this is the only natural cave you can tour in the Allgäu and it is a constant 4°C inside. Follow the wild mountain mysterious fairy-tales on well-secured steps 300 metres below the Surface.
See – touch – experience! Visitors to the village museum are sure to learn interesting facts about the history of mining and the geology of Grünten, the 'Guardian of the Allgäu'. Learn about the life and arduous work of the miners in the iron ore mining industry from the 14th to the 19th century and the geology of Grünten and the Allgäu. Extraction of iron ore, smelting, and the hard work of a blacksmith are all clearly illustrated; plus, on selected days, forging work actually takes place in the blacksmith's shop which has been rebuilt to its original form, involving children and the highly coveted 'lucky horseshoes'.
In the open-air area, you will find coal mills, blast furnaces and smelting furnaces, as well as legends and myths of ore mining. In the 'Grubi-Stadel' you can watch films on historical mining and Grünten – here history comes alive! As a highlight, you can immerse yourself in the underground world of miners – on a guided tour with a 'Grubi'! The 'Knappenhock' invites you to take a break on its sun terrace. Children can go on a discovery tour with the 'iron ore rally' in the museum village and have fun on the playground.
Allgäu's very own amusement park – Skyline Park
Spend a day at the Allgäu Skyline Park, where children are happy and parents are satisfied and relaxed. This family-run amusement park stands out for its unique park landscape, nestled in the Allgäu Pre-Alps region. "Extending over more than 28 hectares, everyone has a special adventure here, both young and old. This may be action-packed such as on the Sky Shot, a fast-paced sling-shot ride, or the Sky Wheel, Europe's highest overhead roller coaster, or child-friendly at the award-winning Kids Farm, a lovingly designed farm play area". This family- and amusement-park is located approximately 80 km from the hotel and offers free parking.
Year-round tips for excursions with the children
Allgäulino indoor play centre
Located just 7 km from the hotel, the Allgäulino indoor playground in Wertach has over 3,000 m² of space for children to run around and have fun. With climbing mountains and towers waiting to be conquered, plus an almost 10 metre-high dragon castle, it offers everything to get little skiers' hearts racing. There are even electric cars for young Formula 1 fans. Admission is free with the Bad Hindelang PLUS guest Card!
For ultimate water fun, the Wonnemar water park with its thermal spa area and sauna world, is located in Sonthofen, just 12 km from the hotel. A wide range of first-rate water slides awaits your children. With varying speeds and levels of difficulty, they offer guaranteed thrills for people of all ages! Whether you go for the Kamikaze, Black Hole, Crazy River or the Family Slide, there is no shortage of fun and action. Parents can unwind in the tranquillity zones. Admission is free with your guest card and the Bad Hindelang PLUS package.
The town of Füssen is well worth a visit, located in south-west Bavaria on the Romantic Road and Via Claudia Augusta. To the east, it borders the Lech and to the south Austria. A walk through the beautiful old town provides the perfect opportunity for a shopping trip. Füssen is 45 km away and an ideal destination for a day trip combined with a visit to Bavaria's royal Castles.
The royal castles – a royal experience for your family holiday in Germany!
The castle of the 'Fairy-tale King' Ludwig II was opened to the public seven weeks after his death in 1186. The reclusive king built the castle to escape from the public eye – this retreat has since become a major attraction. Today, Neuschwanstein is one of the most visited castles in Europe with an idyllic location that is truly unique. Located approx. 50 minutes from the Hotel.
Hohenschwangau Castle, or Burg Schwanstein as it used to be called, was first documented in the 12th century. Up until the 16th century, it was owned by the knights of Schwangau and then changed owner several times during the subsequent period. It was badly damaged during various wars. In 1832, it was purchased by the future King Maximilian II, father of King Ludwig II, and rebuilt in neo-Gothic style in accordance with its original plans. It was used by the Bavarian royal family as a summer and hunting residence. Not only did King Ludwig II spend his childhood here, but he also used it as a summer residence until his death in 1886. Located approx. 50 minutes from the Hotel.